TerraIndex™ HPI
May 10, 2023
Key Insights At National Level

The U.S. home values for combined single-family detached and single-family attached properties increased by 0.8% in April 2023 from April 2022, the lowest annual increase in more than a decade.
However, home values continued their strong upward momentum that started a couple of months ago, posting a non-seasonally-adjusted 1.9% increase in April over March 2023. This makes home buying affordability even more difficult as home price appreciation in many markets is outbalancing any decrease in mortgage interest rates.
Since the June 2022 market peak, home values nationwide are down by just 2.5% through the end of April 2023.
Key Insights At State Level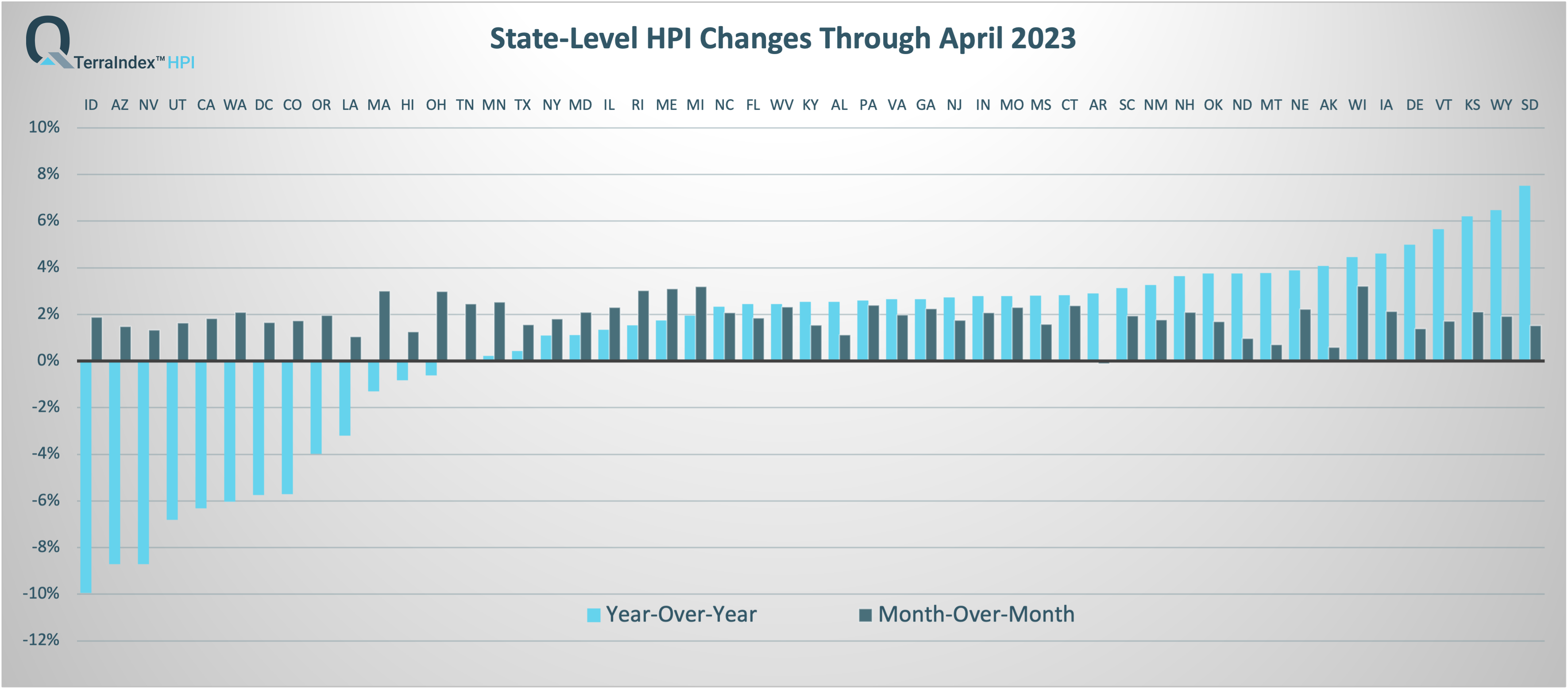 On a year-over-year basis, about 1 in 4 states show an annual price decline. Idaho continues to exhibit the worst performance at -9.9%, followed by Arizona and Nevada with annual price declines around -8.7%.
On a non-seasonally-adjusted month-over-month basis, most states registered significant price increases in April. In fact, almost half of the states experienced home value increases above 2% during the month of April.
From the June 2022 market peak, about a quarter of all states erased their losses and are back in positive territory. These are states where home values are generally more stable over time and are not exposed to much market volatility, like South Dakota, Kansas, Wyoming, Arkansas, Oklahoma and Delaware.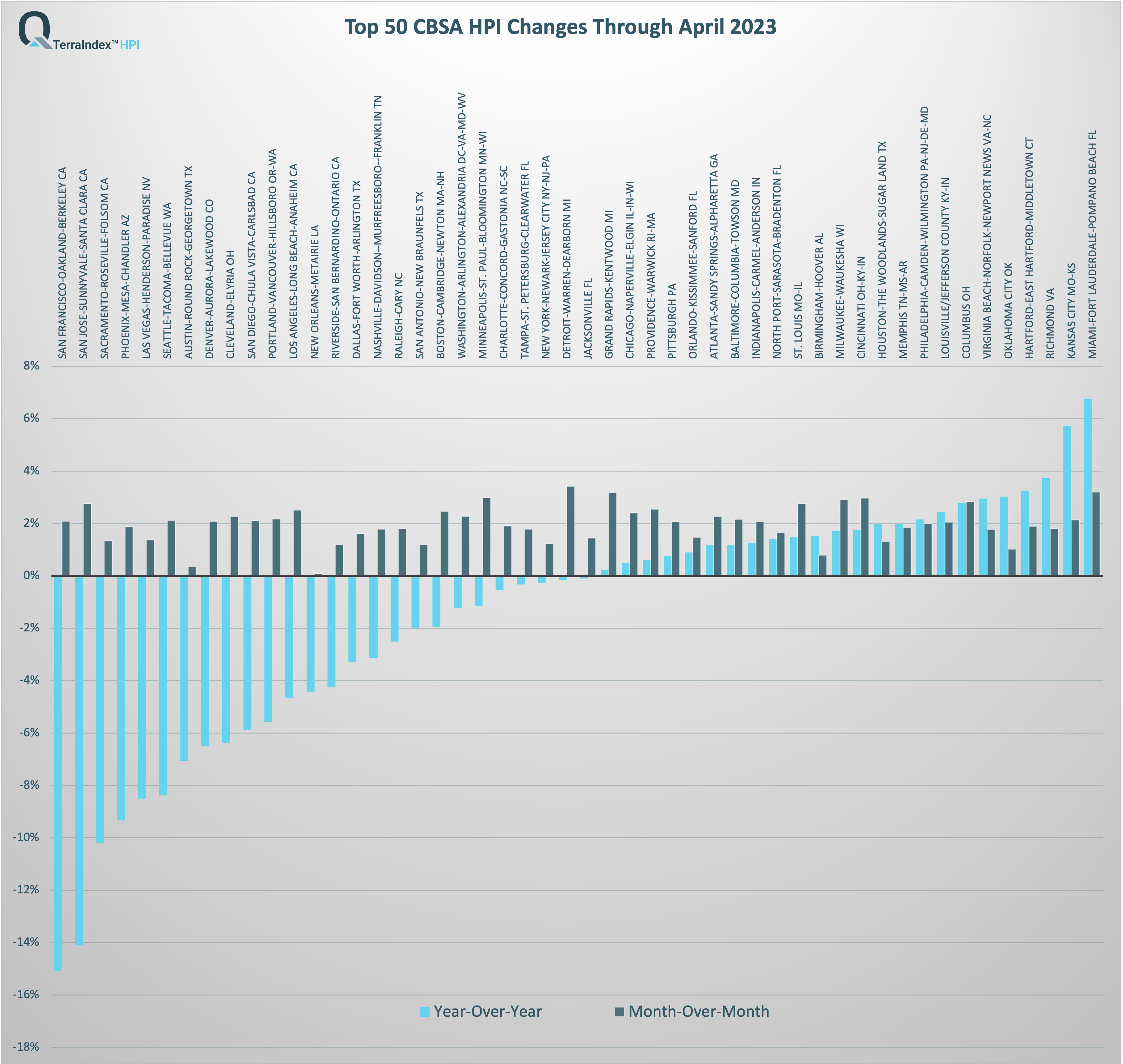 On a year-over-year basis, about half of the top 50 CBSA markets continue to exhibit home values depreciation, with San Francisco (CA) and San Jose (CA) still experiencing about -14% annual declines. At the other end, Miami (FL) and Kansas City (KS) show an annual home value growth of around 6%.
On a monthly basis, all top 50 markets exhibited price appreciation, with half of them showing price increases above 2% (non-seasonally adjusted). There were three markets where home values jumped over 3% month over month – Detroit (MI), Miami (FL) and Grand Rapids (MI).
Considering the June 2022 market peak, there are two markets that have clearly escaped the negative territory – Miami (FL) and Kansas City (KS) – both with about +3% price growth since June 2022.
Our Home Price Index (HPI) is based on the proprietary Quantarium Valuation Model (QVM) value estimates for more than 100 million residential U.S. homes. QVM has been tested extensively in the last 5 years by some of the top third-party AVM testing agencies in the U.S. and has been consistently ranked at the top for both Accuracy and Hit Rate performance metrics. QVM re-computes the estimated values for the entire national footprint on a weekly basis, along with HPIs at various geography levels – from State, County, CBSA, down to Zip Code and Census Tract. That allows TerraIndex™ HPI to provide the most current market insights, being weeks faster than most other housing indices in the U.S.
The report for a given month is usually available on the second Wednesday of the following month, for example HPIs for the month of December 2022 were made available on Wednesday, January 11, 2023.
Located in Bellevue, WA, Quantarium was founded by a team of leading scientists and Ph.D.'s. The company has designed and developed an innovative and enabling set of AI and Visual Technologies currently being deployed across multiple real estate industry sectors. Quantarium is one of the most accurate sources of property insights for over 158 million U.S. properties and trusted by major mortgage lenders, financial institutes, builders, direct marketing agencies, and real estate professionals across the nation. With a technology suite that is different in kind, then degree, the company's products and services uncover and capitalize on the core DNA of vertical industries. From genetic modeling property valuations and markets that understand and interpret real estate data as expressed through synthetic future populations, through to CV adjusted values, Quantarium offers real AI to drive real value.
For business inquiries, please contact us at 424.210.8847 or discover@quantarium.com.