Identify new prospects, make valuation decisions confidently, enhance your business performance
Data-Driven Evaluations, Practical Applications
Broad and deep rules-based, Quantarium's Valuation Platform (QVP) provide customers a compelling mix of valuation science and the industry's leading data lake. Our solutions allow you to quickly and accurately value individual or multiple properties according to custom criteria, significantly improving your ability to drive and accelerate transactions.
N
State-of-the-Art BPO Services
N
Reconciled Market Value
N
Desktop Valuation Model
N
AI-Driven Comp Likeness Score
N
Computer Vision Image Categorization
N
Customized Search Polygon
N
Innovative User Interfaces
Make informed business and investment decisions based on actionable and detailed data intelligence tailored to your unique needs.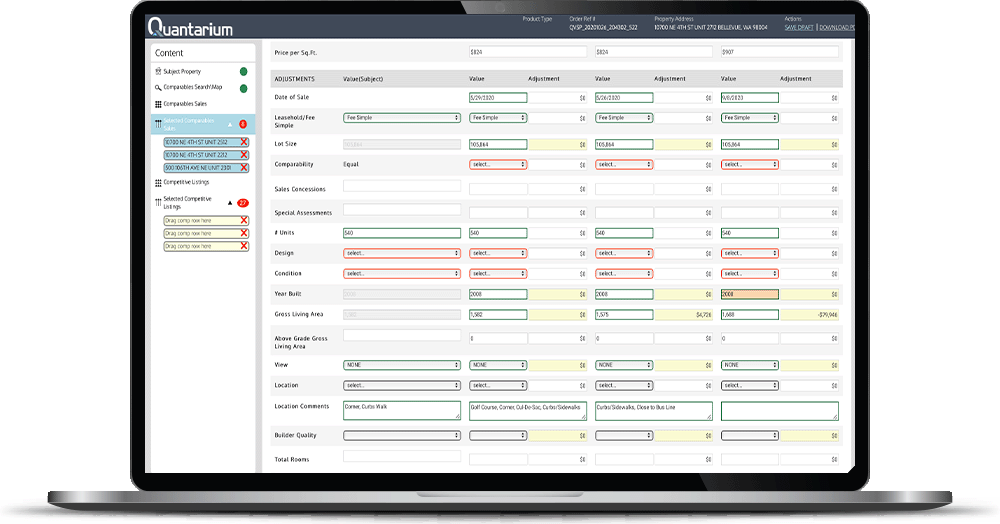 Take advantage of our next-generation BPO approach, which combines proprietary computer vision, aggregated MLS data, and machine learning to generate agent-driven reports based on the best sold and listed comparables, property history, and customizable quality control rules.
Key Features
Appraisal Services
State-of-the-Art BPO Services
QC Services
Reconciled Market Value
Desktop Valuation Model
Delivery Methods
Web Portal
APIs
1-Click PDF Reports
White Label Web Parts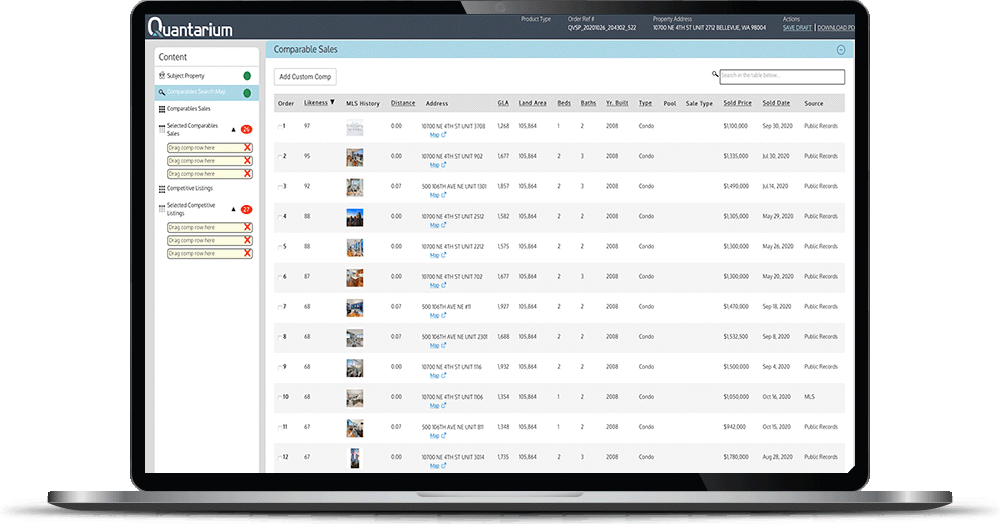 Access more than 158 million property parcels through the property reports of your choice. Gain quick access to extensive property information such as characteristics, foreclosure status, transaction history including ownership transfers and mortgage sale or refinance details, and tax information. Learn about nearby properties, sales price trends, number of properties sold, forecasted trends, and area demographic details based on proximity to the subject property. Consider the current market and comparable sales and listings information, including market prices, property characteristics, land use and assessed value.
Market Intelligence
Property Details
Neighborhood Demography
Transaction History
Sales Comparable
Access Methods
Bulk File
Match & Append
Marketing Lists
APIs
1-Click PDF Reports
Bulk PDF Reports
Web Portal
White Label W
Keep Homeowners Informed and Strengthen Your Customer Loyalty
Take confidence in experiencing the finest home wellness information available. Stay connected and act as a trusted advisor for homeowners. Drive your email campaigns using vital personalized information.
Inform and empower your customers by providing them with accurate and detailed information about their home. Quantarium's Home Wellness Reports include data that identifies and articulates characteristics and key elements such as estimated home value, property basics, neighborhood home value index, comparable home sales and listings and zip code data.
Key Elements at a Glance
Estimated Home value
Property Basics
Neighborhood Home Value Index
Zip-Code Data
Comparable Home Sales and Listings
Delivery Options
Bulk File
Match & Append
Marketing Lists
APIs
1-Click PDF Reports
Bulk PDF Reports
Web Portal
White Label Web Parts
Let's Start a Conversation