Data and Search Platform
Empower your business network with the right prospects and capitalize on marketplace opportunities with greater confidence
REAL ESTATE DATA LICENSING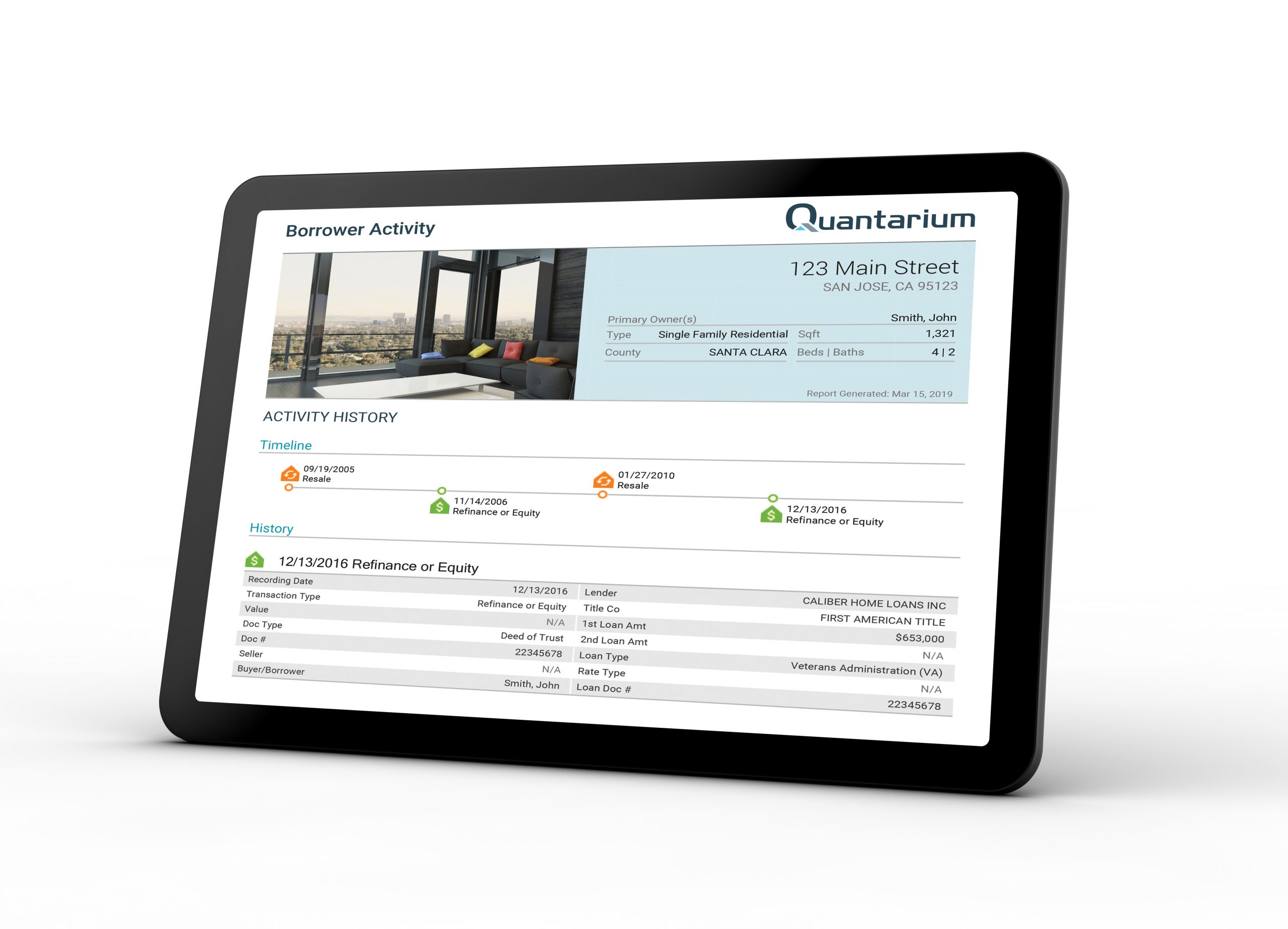 Whether you are looking for property ownership details, checking foreclosure status, validating a property value, exploring transaction history, or comparing nearby sales, we have you covered. We synthesize and validate data from multiple sources, using advanced quality assurance processes and at unparalleled data cost savings to meet your business needs.
Choose the Data You Need
Tax Assessments
County Recordings
Releases, Assignments & Foreclosures
Property Valuations
Property Features
Property Transactions
Deliver Data Your Way
Bulk File
Match & Append
APIs
Marketing Lists
Instantly obtain the information you need in order to find and network with your prospects across the United States.
With Quantarium Marketing Lists, locating the right prospects is easier than ever. Our ready-to-use marketing lists are customizable based on hundreds of characteristics, and available on-the-fly through our web portal. We cover a wide range of residential and commercial prospects, from people who have recently moved or are planning to relocate, to those who are looking for a service provider for their home or firm needs.
List Highlights
Superior National Coverage
Instant Access and Download
Higher Delivery Rate
Comprehensive Mortgage and Financial Information
Verified and Updated Daily
High-Level Granularity
Millions of Records
Direct Email, Contact Number, and More
Prospects Delivery Methods
Custom Lists
Match & Append
TIRED OF PORING THROUGH BILLIONS OF TRANSACTION RECORDS?
Why endure the time and cost impairment of acquiring all of the big data sets when a concise, accurate and up-to-date representation of every property across the U.S. is available?
An asset within our data lake, Quantarium's Managed Data Set (QMDS) is the most comprehensive and dynamic in the industry. With unprecedented breadth and precision, Quantarium's managed data is underwritten by our award-winning proprietary Artificial Intelligence and Machine Learning engine.  For our customers, the QMDS represents the cutting edge in industry-leading valuations, analytics, risk management, portfolio optimization, and decision-modeling across the US Housing Sector and downstream industries. We offer enhanced content, not available in standard public record solutions, that allows you to create comprehensive analyses, derive unique insights and establish competitive advantage for your portfolio or target market.
The Q Difference
Q Unique Identifier
Purpose of Loan
Purchase LTV
Estimated Equity Balance
Current Estimated Monthly P&I, Principal, and Interest
Current Estimated Interest Rate, Loan Balance, Equity, Combined LTV
Current Loan Assignment Information, Pre-Foreclosure Status, and Loan Term
Total Financing History Count
Current Total Open Lien Balances
Loan Level Details
Data Augmentation and Standardization
Parcel-Level and Ownership-Level Transaction History Database
Household-Level Demographic Database
Let's Start a Conversation