Challenging Case Shiller and the Two-Month Delay in Tracking National Home Prices
BELLEVUE, WA – Quantarium, a Seattle-headquartered national real estate AI technology firm, is challenging the assumption that the U.S. housing market needs to wait two months to reliably find out how home prices are changing.
When a seven-month-long home price depreciation trend suddenly reversed at the end of February of this year, Case-Shiller Home Price Index (HPI) users had to wait until April 25, almost seven weeks later, to get the news, as reported by the Wall Street Journal. By comparison, followers of Quantarium's TerraIndex™ HPI would have found out about the reversal on March 8—only eight days after it happened.
Quantarium's TerraIndex™ HPI is not new. It has been around for years, supporting the company's proprietary Automated Valuation Model (QVM), an AVM that is used by lenders and other institutions across the country and provides estimates for more than 100 million U.S. residential properties.
After having observed the ups and downs of the national, state and local real estate markets since 2020, the company decided to start releasing its HPI to the public this year.
"Certainly, Quantarium is not saying that Case Shiller is not a good model. Indeed, it is," said John Smintina, Ph.D., Chief Analytics Officer and Quantarium Co-Founder. "But, with the volatility in housing markets, lenders, financial experts and consumers alike need to know the direction in which they are headed a lot sooner."
What makes the difference in reporting time, according to Smintina, are the methodologies used. The Case Shiller index, for example, measures repeat sales data and reflects a three-month moving average. The company reports the HPI results for a given month with about a two-month lag.
Conversely, Quantarium recomputes at least weekly the estimated values for the entire national footprint, along with HPIs at various geography levels–from State, County, CBSA, down to Zip Code and Census Tract. Furthermore, the HPIs produced on any given date are based on proprietary valuation data science which include over 90% of all sales transactions that will have been reported through a four-week rolling period ending on that date. In so doing, Quantarium takes advantage of its industry-leading Data Services Platform (QDSP) to reduce the processing time lag to an absolute minimum.
The TerraIndex™ HPI report for a given month is typically made available on the second Wednesday of the following month. For example, HPIs for the months of May and June were published on June 14 and July 12, respectively.
The TerraIndex™ HPI report bears many similarities to other national HPI-based reports that track house prices and trends, such as the Case-Shiller National Home Price Index, the Black Knight Mortgage Monitor Report and the Core Logic indices. These approaches all use hundreds of millions of mortgage and public records and MLS data records as the foundation for their reports.
As the next charts illustrate, these national home price indices are showing a similar pattern throughout Q1 2023; namely, that year-over-year prices are increasing, albeit at a slower and slower rate each month, while month-over-month non-seasonally adjusted prices broke from their seven-month-long negative trend in February 2023 and then accelerated their growth in March.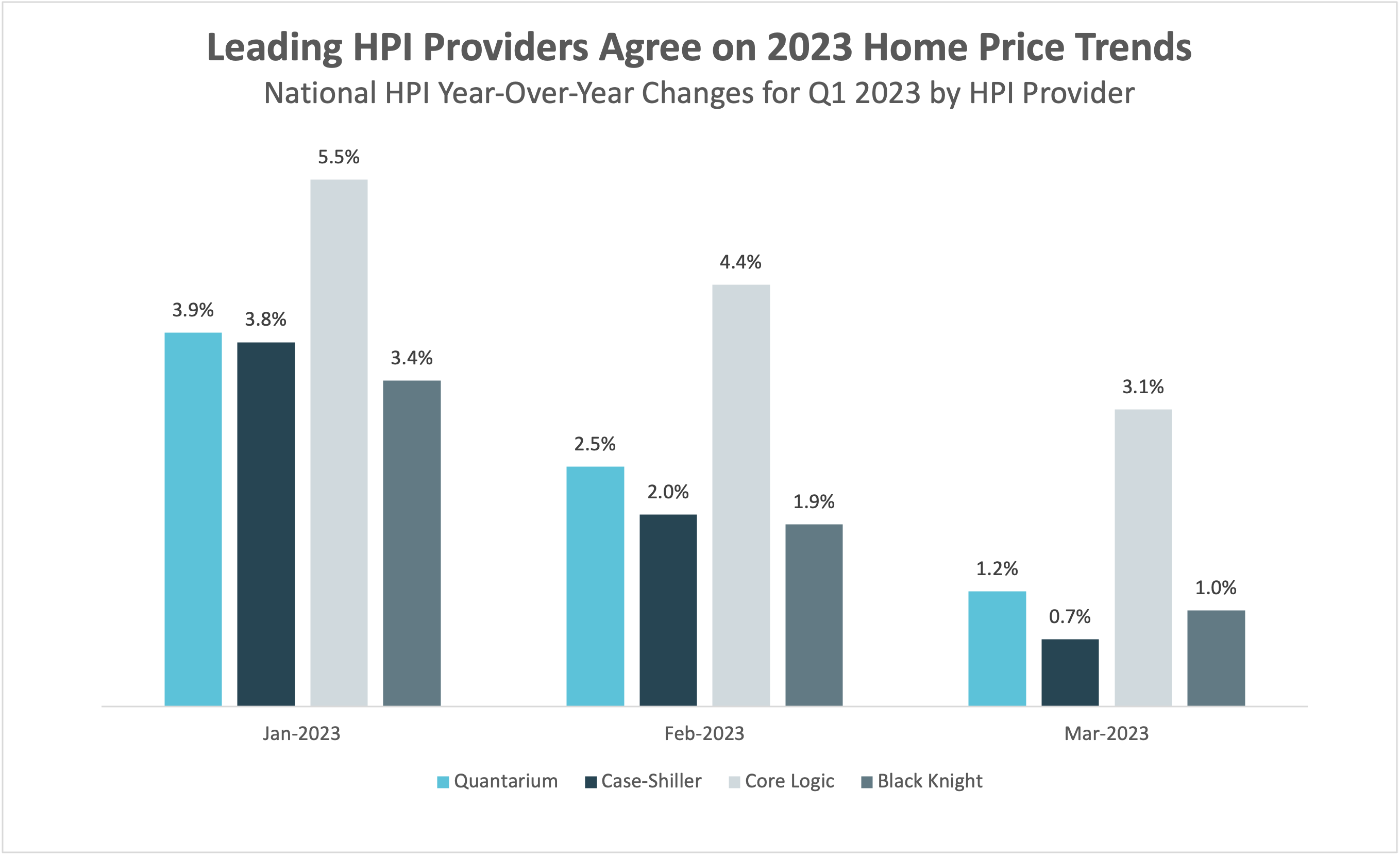 As evidenced by the next chart, all four HPIs correctly detected the critical inflection point that occurred in February 2023.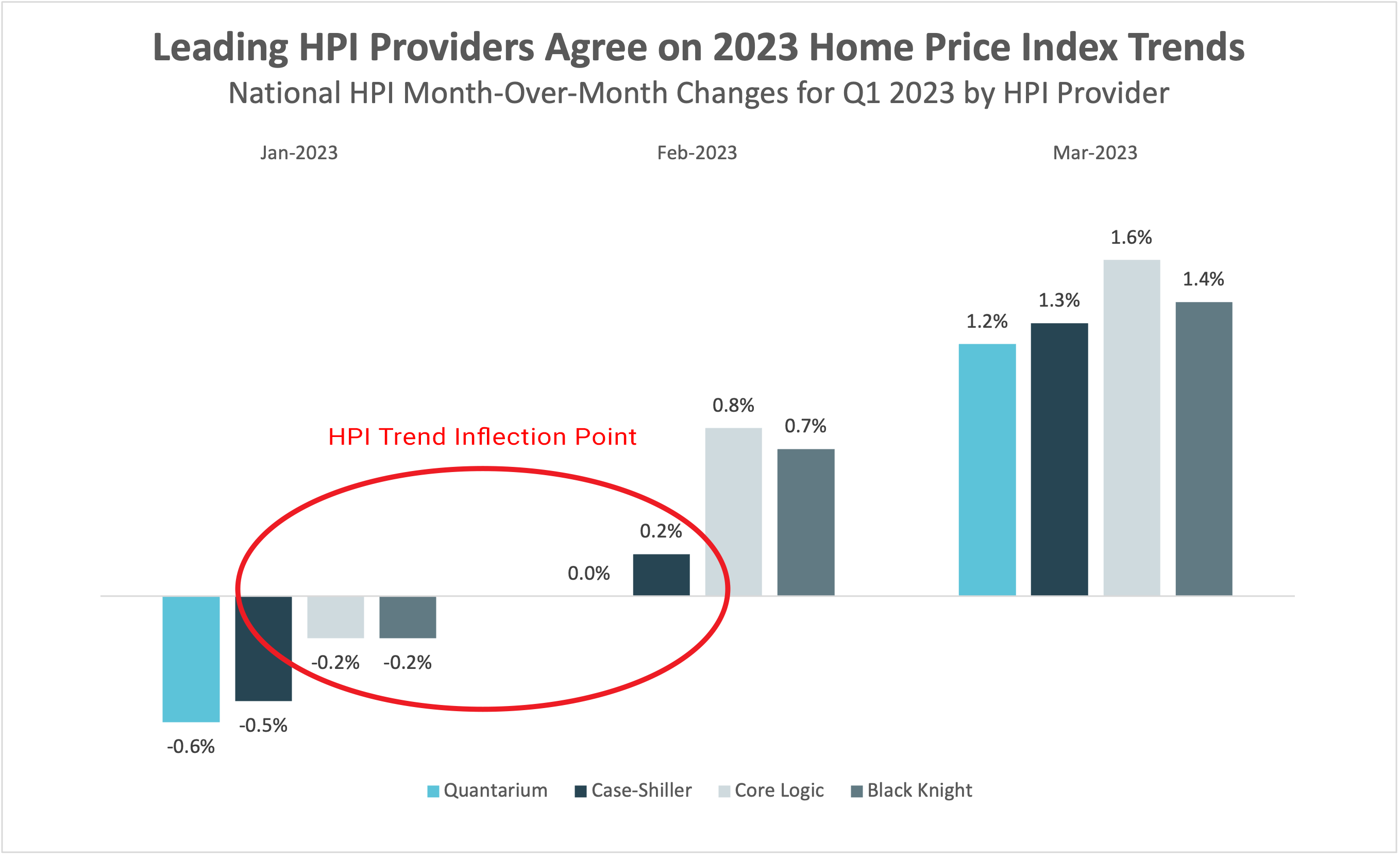 However, these HPI providers didn't report their results at the same time. Case Shiller required two months to identify the inflection point, Core Logic and Black Knight over a month, while Quantarium was able to report the inflection point within only eight days.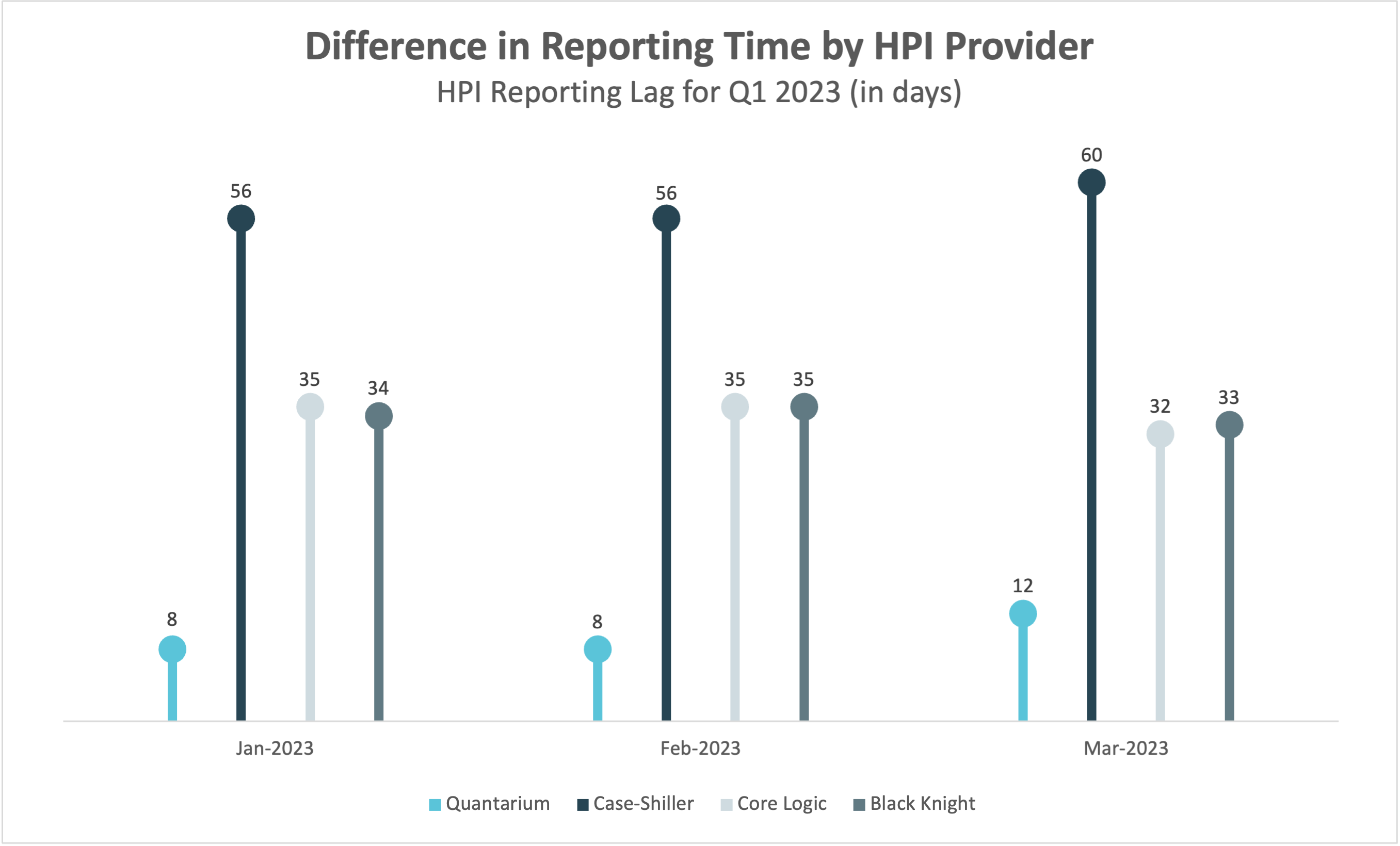 To some, it might seem like "old news" focusing on HPI results from Q1 when we are already in Q3; it is simply not possible to make "apples to apples" comparisons (as of the date of this report) since Case Shiller will not publish its full Q2 results until late August.
"This reality of having to wait for Q2 results reinforces our perspective on lost business and consumer informed decisioning, and underscores our decision to release this data," said Quantarium's Smintina. "While these four HPIs generally end up telling the same story, one of them is clearly doing so much, much earlier. In that sense, consumers of our TerraIndex™ HPI are 'always the first to know'."
Quantarium's latest TerraIndex™ HPI report, including state and MSA-level data for the month of June, can be read here. This report again proves the importance of recency in the current, ever-changing market by detecting yet another inflection point in national home prices. Behind a seemingly small year-over-year increase of 0.2%, the June report  for the median value of combined single-family properties shows that the housing market has entered new, record-high territory by surpassing the June market peak reached a year ago—a finding reported by Quantarium a mere 12 days later.
Data Sources
About TerraIndex™ HPI
According to John Smintina, Ph.D., Chief Analytics Officer and Quantarium Co-Founder, the TerraIndex™ Home Price Index (HPI) is based on the proprietary Quantarium Valuation Model (QVM) value estimates for more than 100 million residential U.S. homes. QVM has been tested extensively in the last five years by some of the most trusted third-party AVM testing agencies in the U.S. and has been consistently ranked at the top for both Accuracy and Hit Rate performance metrics. QVM was also recently approved by Fitch Ratings for Wall Street transactions. You can read the announcement here.
About Quantarium
Located in Bellevue, WA, Quantarium was founded by a team of leading scientists and Ph.D.'s. The company has designed and developed an innovative and enabling set of AI and Visual Technologies currently being deployed across multiple real estate industry sectors. Quantarium is one of the most accurate sources of property insights for over 158 million U.S. properties and trusted by major mortgage lenders, financial institutes, builders, direct marketing agencies, and real estate professionals across the nation. With a technology suite that is different in kind, then degree, the company's products and services uncover and capitalize on the core DNA of vertical industries. From genetic modeling property valuations and markets that understand and interpret real estate data as expressed through synthetic future populations, to computer vision adjusted values, Quantarium offers real AI to drive real value.
For more information, visit quantarium.com.
Media Inquiries for Quantarium
Lia Adams
+1 206 390 3403
lia.adams@quantarium.com